Tomorrow's Technology Today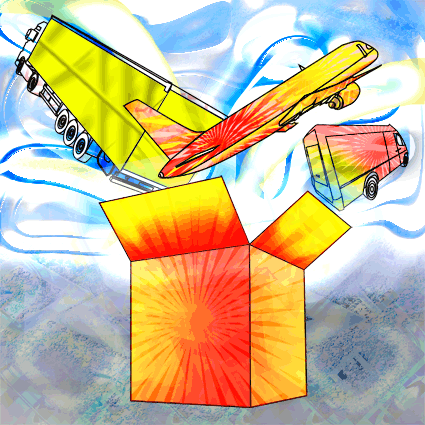 Jan Peter describes his role as CIO as "developing, managing and directing the country's business IT function in accordance with DHL corporate IT strategy and guidelines".

The day I met Jan Peter, DHL had just announced that all their US and European locations are now ISO 9001 Certified. This provided an interesting topic of conversation, as standardization and innovation are often seen as a conflict of interest. Managing innovation is about how tomorrow's technology can be used today, whereas standardization often deals with how today's technology can be effectively used today and tomorrow.

During our meeting we discussed how Jan Peter manages to combine these two aspects in his role as CIO. Jan Peter: "It is important to first have a clear picture of why innovation is important to the business, this helps to get the organization behind innovation". He mentions three of the reasons why DHL continuously tries to innovate. The first reason is to reduce cost and to improve service towards the customer. New technology can often be used to cut costs running a business and to increase customer service, for example in the way that an Internet portal helps their customers manage their own deliveries. The second reason is durability. DHL is a responsible organization and is always looking for new forms of transportation or new technologies, which help reduce their environmental footprint. A third less obvious reason is to continue to attract staff. People want to work in a modern environment; they appreciate it if a company stays up to date with what's out there. If you have the latest phone and computer at home and broadband Internet, you come to expect similar technology at work. Similarly, with the advances in mobile technology and the fact that people have access to information from virtually anywhere, a company is considered old fashioned these days if the work is tied to a physical desk and a wired desktop computer.

To cater to the wishes of the modern employee, some companies employ a 'bring your own device' policy, where people can use their own phones and other devices to read their work email or connect to internal IT systems. According to Jan Peter this is an area where the tension between standardization and innovation is clearly visible. When the iPad was released last year, Jan Peter wanted to get a feel how a tablet could be put to good use within DHL, so he purchased 10 iPads and asked the management team to use and evaluate the device for a couple of weeks. One of the hurdles to overcome was getting work done on a device that was not vetted by corporate IT. To an IT department, any new device is a threat to security and a potential risk. On the traditional desktop, the user is, like the word implies, only a user of the system. It is actually in control of the IT department. Devices such as tablets typically put the user in control, and an IT manager's instinctive response would be to limit what the user can do with his device. Jan Peter's opinion is that IT departments have to find a new balance between security and control on the one hand and user needs on the other.

Another aspect that increases the conflict between standardization and innovation is the sheer speed of innovation. In the past IT departments had time to investigate new technologies thoroughly. The time between the arrival of a new technology and the appearance of that technology in the field was long enough to properly investigate a technology and to incorporate it in corporate standards. These days by the time IT has completed their security scan the technology is already outdated. A way to deal with this is to standardize not on a device or on a software client, but on the protocols and standards that are used. An IT department may adopt a securely implemented email infrastructure that any client adhering to the same standard will be able to use.

Managing this balance is an important task of CIOs nowadays, so it isn't surprising that Jan Peter is constantly finding ways to innovate the business while maintaining standards to ensure business continuity. Jan Peter sees himself as a 'change agent', because innovation is not about managing technology, it's about managing change.

That innovation is not so much about technology itself becomes clear when we discuss the way DHL has incorporated social media. Social Media is much less about technology and much more about the interactions between people. Recently DHL introduced Yammer, which is a corporate version of the popular social network Twitter. With social media, the traditional channels of communication make way for a new form of communication that is no longer limited by the traditional hierarchies in an organization. On Yammer for example, people from all layers of DHL can communicate directly with each other. This makes the pool of talent anyone can draw from has significantly increased. One of the first things Jan Peter witnessed after Yammer was running for a while, was that managers would receive feedback from people that they would not easily have talked to in the traditional communication models. Using social media, management is no longer an ivory tower that delegates work downwards; managers become part of a buzzing network of individuals and communication happens much more directly.

We ended the conversation with some advice from Jan Peter on how CIO's can handle the balance between standardization and innovation. The main thing is to recognize that it's about people first, and technology second. Having the right mix of people in a management team (or the organization as a whole) is the key element. Jan Peter looks at the strengths and weaknesses of each individual and creates a set of responsibilities and duties that is tailored to the team. Jan Peter: "A classic mistake is to add new people to the mix and try to find out how these new individuals can be shaped and molded to fit in the existing team. Instead, I try to look at the whole; given the skills and talents of new employees, what is the optimal way the team can work together". A methodology that has worked well for Jan Peter is the application of the MBTI-Meyers-Briggs test. Using this test, every individual's skills are analyzed and next a SWOT (strengths, weaknesses, opportunities and threats) is performed, in order to find the optimal division of responsibilities within a management team. With the right mix of people, companies can use standardization to provide continuity, and put innovation into the mix to reduce cost and to improve customer service, be responsible to the environment and to keep employees happy.


About Jan Peter de Valk:
Jan Peter de Valk is a creative and result-oriented professional and executive with multiple academic degrees of top science, engineering, business and law schools. He has 30 years of the widest possible global business and innovation experience in a multitude of leadership positions. He has been successful within the world's largest multinationals, such as IBM, ING and now DHL.


About Ivo Jansch:
Ivo Jansch is a book and magazine author based in The Netherlands. Ivo has a passion for technology; when he's not dealing with technology himself, he can be found mentoring and coaching others, or speaking about a wide range of topics at various conferences. He has been hands on as a developer and software architect in the past, and was the CTO of a large web development company for a number of years. Most recently he is the founder of Egeniq, a startup dealing with mobile technology.