10 IT Management Predictions For 2010, We Asked The Experts
The Experts 2010 IT Management Predictions
Reprinted with permission from the Aprigo Blog
Krishnan Subramanian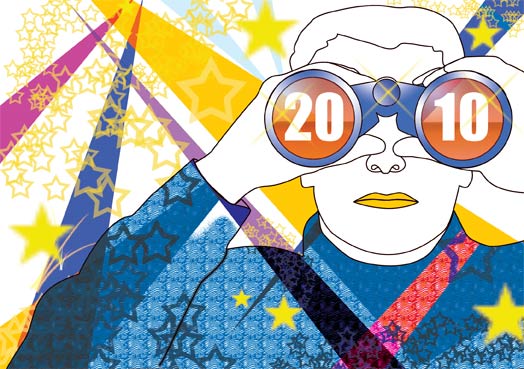 Krishnan Subramanian dons several avatars including entrepreneur, open source researcher cum evangelist, cloud computing evangelist, social media consultant, ex-physicist, prolific blogger, social and political commentator. He is part of the management team in two companies in India (including one which helps business customers reap the benefits of open source software and cloud computing platform) and sits on the board of a few other privately owned companies.
His IT Management Prediction For 2010:
I am seeing some really interesting trends shaping up in cloud computing but I am going to focus on one or two trends that are closely closely aligned with Enterprise IT.

2010 will see a further increase in the SaaSification of IT Management Services. This trend has already started this year but 2010 is going to see further consolidation and commoditization. Many providers have started offering IT Infrastructure services like monitoring, performance reporting, etc. as SaaS. Recently, IBM announced the release of IBM Tivoli Live, a SaaS version of their monitoring solution. This trend is going to accelerate further in 2010 with more and more services added to the SaaS offerings by various providers, big and small, eventually leading to a price war and commoditization. 2010 will see release of such SaaS IT Management offerings that will reduce the IT spending in the enterprises drastically, especially the mid market ones.

Another interesting trend, which has already started in 2009 but which I expect to intensify further in 2010, is the new found interest among the open source vendors to offer a SaaS version of their IT tools. Cloud is going to play a very important role in the strategy of the open source vendors.
Jeffrey M. Kaplan
Jeffrey M. Kaplan has over twenty-five years of experience and recognized expertise in IT/network management, SaaS, managed services, cloud computing, telecommunications and outsourcing trends. He helped to launch IDC's Communications Industry Research (CIR) program in 1983; Dataquest's Worldwide Services Research program in 1990; and Meta Group's Benchmarking program in 1995. He then went on to have successful 'real-world' experiences at INS and InterOPS Management Solutions.
His IT Management Prediction For 2010:
SMBs will become more comfortable about taking advantage of Software-as-a-Service (SaaS) alternatives to traditional business applications. They will also increasingly experiment with the widening array of cloud computing services to address a broader set of IT requirements, including their IT management needs.
Derek Melber
Derek Melber (MCSE, MVP) is an independent consultant and speaker, as well as author of many IT books. Derek educates and evangelizes Microsoft technology, focusing on Active Directory, Group Policy, Security, and desktop management. Derek is President and CTO of BrainCore.Net. As one of only 8 MVPs in the world on Group Policy, Derek's company is often called upon to develop end-to-end solutions regarding Group Policy and security for companies. Derek is one of only a few in the industry that has a deep knowledge of Group Policy, Group Policy Preferences (AKA PolicyMaker), and Advanced Group Policy Management (AGPM).
His IT Management Prediction For 2010:
I predict the following…Windows 7 will become the largest implementation of windows ever. Primarily for performance, but also for internet explorer security with uac and protected mode enabled. However, after companies realize uac does not provide least privilege, windows 7 will need help from 3rd party companies that provide least privilege to end users desktops. This will become the good, bad, and security solutions for windows in 2010.
Matt Simmons
Matt Simmons is a system administrator, specializing in small infrastructures (networks with less than 200 hosts). He has been a sysadmin since 2002, when he became the Assistant Network Administrator of an ISP in West Virginia. He eventually became the primary administrator there, and later moved to Columbus, OH where he took his current role as system administrator of a small risk management firm. Matt is also a writer at StandaloneSysadmin, and has a semi-regular column called Confessions of a Sysadmin in the Simple Talk: Exchange magazine.
His IT Management Prediction For 2010:
Here goes. *puts on turban with jewel*

Large shops are going to take advantage of ever-increasingly-virtualized hardware-cum-software and increase the complexity of their internal clouds.
Small shops are going to continue to wonder why the cloud is a big deal, and they'll keep dabbling in small-scale virtualization.
Startups are going to wonder why anyone ever thought paying for hardware was a good idea.

Before the end of the year, we're going to start expanded IaaS where a provider not only offers virtualized service infrastructures, but also thin-client based virtualized desktops delivered via VPN, essentially making the clients' networks themselves virtual within the provider's cloud.

Oh, and flying cars.
Scott Bils
Scott Bils- Scott is the co-founder and CMO of Conformity (www.conformity-inc.com), a venture-backed provider of the first enterprise-class management and governance platform for cloud applications. Scott currently oversees all sales, business development, marketing and product management activities for Conformity, based in Austin, Texas.
His IT Management Prediction For 2010:
2010 will be the year when 'the other shoe drops' with SaaS and cloud applications. While 2009 has seen significant excitement (and many would say hype) around these technologies, in 2010 IT will be wrestling with how these technologies will be managed and integrated with existing infrastructure and processes. While offering significant operational and financial benefits over on-premise alternatives, cloud services also create significant challenges for IT organizations that need to enforce policies and controls across these hosted 3rd party services. While these issue create short term challenges, once these challenges are successfully addressed SaaS and cloud applications will be truly ready for mainstream adoption in the enterprise.
Gil Zimmermann
Gil Zimmermann- is the CEO and Co-Founder of Waltham based startup Aprigo, Inc. Aprigo's Online Data Management apps help IT Pros in Mid-Size companies manage the security risks and costs of explosive file growth. Prior to founding Aprigo, he was an Entrepreneur-In-Residence (EIR) at Cedar Fund. Gil has held key business positions in both small and large companies (Backweb, Sun Microsystems, EMC Corporation), beginning his career in the Israeli Defense Forces (IDF) with several technology leadership positions in the Military Intelligence Elite Computer Projects Unit.
His IT Management Prediction For 2010:
IT Directors and CIOs will embrace Data Visualization and Data Analytics applications delivered as a service to control and gain visibility into the security and costs of their ever growing data assets. Online Data Management applications that are instantly available from anywhere will take off in 2010. They'll make it easier than ever before for IT departments to tackle the ever growing, constantly moving mountain of unstructured data (files) that represents 90% of the data, and contains 90% of the valuable and private information.SaaS Data Management (Delivery of Data Management applications without opening files, copying them, or altering them) will allow IT Managers to focus their core competencies on enabling business through data management, without the hinderance of implementing costly and overly complex IT Management infrastructure. All of this, without breaking the bank.
Eric David Benari
Eric David Benari is CEO of the IT Management Group and IT business expert, master-technologist, writer and speaker. Eric has been helping business owners and technology leaders increase ROI and guide their IT teams to super-productivity for over 10-years. Eric's credentials include PMI-Certified Project Management Professional, Zend Certified Engineer (of PHP,) MySQL-Certified Developer & MySQL-Certified Database Administrator (DBA.) He has been invited to speak at New York University (NYU,) Yeshiva University and Stern College as well as various IT conferences and has written for PHP Architect magazine on security, e-commerce & IT best-practices.
His IT Management Prediction For 2010:
Our economy is driving the need to maximize ROI. Discovering easier and more economical methods to achieve the business goals will be a focus in 2010. Everyone is talking about cloud services and SaaS, but this is just the beginning. I predict that NoSQL databases will take a huge market segment away from relational databases based primarily on their simplicity which removes the need for a database administrator. Open-source solutions are likely to further eclipse proprietary software, putting a significant damper on producing new closed-source products.

2010 will be the year of software that does more with less. We have taken this approach with our Vork framework product by maximizing performance & efficiency so more traffic can be handled with fewer servers. With less funding comes a need to reduce the time-to-market, so accelerating development speed is likely to be a hot topic as well. Products built for simplicity and ease-of-use will thrive in this New Year; great resource savings can be gained when a tool permits a junior-level employee to do a job formerly requiring senior-level skills.
Shmuel Kliger
Shmuel Kliger is the Founder, Preisdent and CEO of VMTurbo. Prior to founding VMTurbo, he was the CTO of Smarts, which was acquired by EMC in 2005.
His IT Management Prediction For 2010:
2010 will be a big year for organizations looking to push their virtualization to the next level. Over the last few years, many organizations have experienced huge CAPEX and OPEX reduction by implementing server virtualization, but now are looking for the next wave of savings. They're finding that to get to that next level, more robust sophisticated virtualization management tools are needed to help their teams virtualize and operate the most business critical and intense applications. The challenge in 2010 for these organizations will be how to deliver the required service level while keeping the virtual environment right-sized, and how to manage the size and complexity of these dynamically changing environments.
George Adams
George Adams is CEO of SSH Communications Security, Inc., Mr. Adams is responsible for developing and executing strategies to build the company's market position. With millions of users worldwide, the company's Secure Shell application has become the de-facto standard for secure Internet logins. Mr. Adams is also a member of the board of directors of the parent company in Finland. Prior to joining SSH, Mr. Adams was vice president of business development for Phoenix Technologies Ltd., where he led strategic initiatives in Internet-based remote management and support. Mr. Adams has also previously held positions at Sun Microsystems, Intel, Analog Devices, and Motorola.
His IT Management Prediction For 2010:
Unified User Identity and Access Management will emerge as a critical issue enterprises must solve to cope with the increasing complexity across the plethora of smart phone, laptop, and desktop platforms they use to access their exploding range of cloud-based, on-premise, and hybrid applications and services.

New NAND Flash caching and storage solutions will begin to change the game and become an architectural model of choice for cloud, hosted, and database-intensive applications to assure satisfactory user experiences in the face of latency issues and exploding IOPS demands.
Izhar Sharon
Izhar Sharon is VP, Technical Services and Operations at XIV, a a storage technology company that designs, produces, and supplies enterprise-class storage area network systems in Israel and internationally. XIV was acquired in 2008 by IBM. Izhar has over 20 years of experience in various high-tech industries including storage, networking and military.
His IT Management Prediction For 2010:
'Green' will continue to drive consolidation for cost reduction. As virtualization trend continues and more VMs go into production, Virtualization Management tools will be a focus in Data Center.

VMware will get more competition and virtualization prices will drop significantly. Cloud offerings will be in testing stage and not massive production till 2011. Availability and Security will be the major concern before embracing Cloud.
Reprinted with permission from the Aprigo Blog